silver fish fine art jewellery necklaces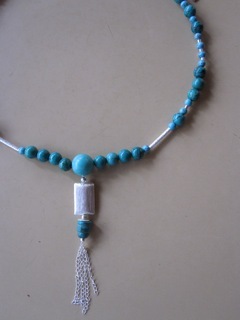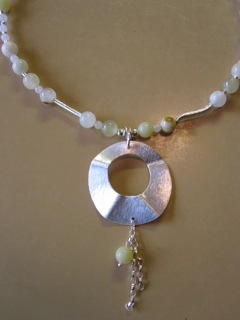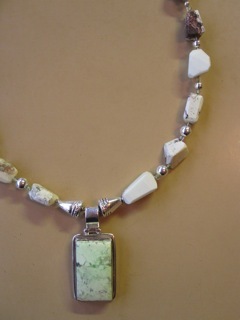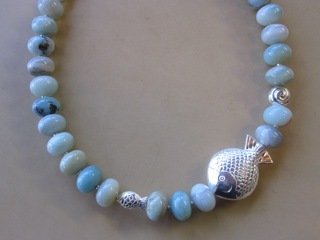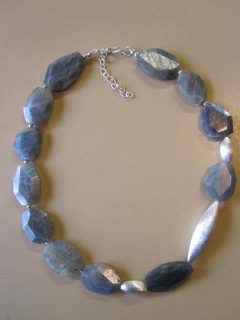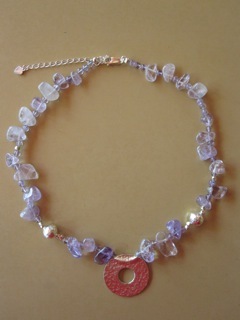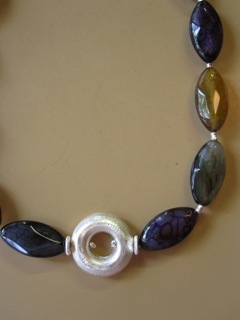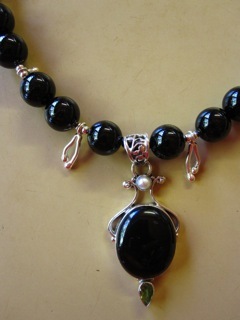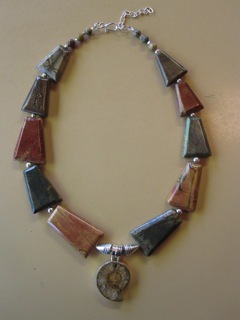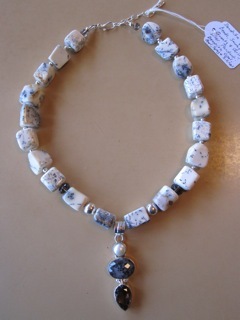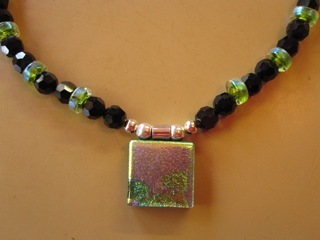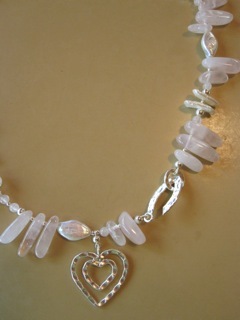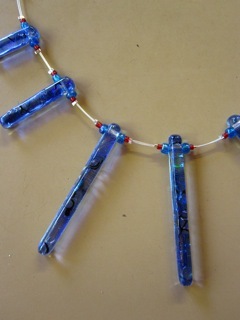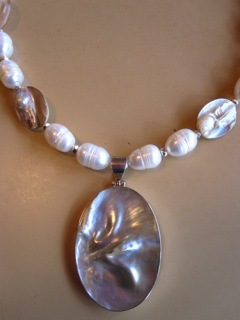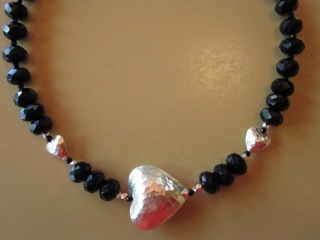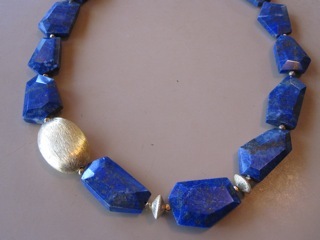 1.

TURQUOISE & STERLING SILVER
$80
2.

LEMON CHRYSOPHAS, OCEAN
​JASPER & STERLING SILVER
SOLD​
3.

AFRICAN JADE & STERLING
SILVER​
$80
4.

AMAZONITE, THAI & STERLING SILVER
SOLD​
6.

CRACK AGATE & STERLING
​SILVER
$90​
7.

ONYX, PERIDOT, PEARL,THAI &
​STERLING SILVER
$100​
8.

PICASSO JASPER,AMMONITE
FOSSIL & STERLING SILVER.
$90​​ SOLD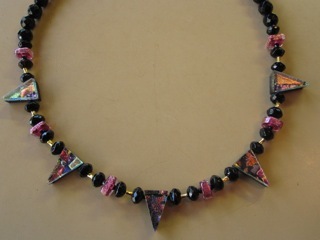 9.

DICHROIC GLASS, CRYSTAL & STERLING
SILVER​
$140​ SOLD
10.

DICHROIC GLASS, ONYX & VERMEIL
$90​
11.

ROSE QUARTZ, PEARL, THAI &
​STERLING SILVER
$80​
12.

DICHROIC GLASS &
​STERLING SILVER
$78​
13.

PEARL, PEARL, MOTHER OF
PEARL & STERLING SILVER​
$89​
14.

ONYX, THAI & STERLING SILVER
$95​
15.

LAPIS LAZULI & VERMEIL
$120​
16.

LABRADORITE & STERLING
​SILVER
$110​
17.

DENDRITIC AGATE, SMOKEY
​QUARTZ, PEARL & STERLING
SILVER​
$98​
18.

AMETHYST, THAI & STERLING
SILVER​
$80​
All my jewellery is made with either Sterling or Thai silver (this has a higher silver content than Sterling) or Vermeil (either 16 or 24 ct gold over Sterling silver). This includes all clasps, chains and findings.

My beads are either semi precious gems, freshwater pearls, coral or dichroic glass which are strung on professional quality stringing materials. Most necklaces measure approximately 18 inches or 46cm and have a 2 inch or 5cm​​ extension chain. I can provide matching earrings for necklaces. ​Please contact me for further details on any piece.
These are a small selection from my large collection.
All images are copyright and protected under Australian and international copyright law.
No images appearing on this web site may be reproduced in whole or in part without the consent of the artist.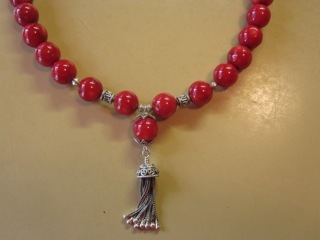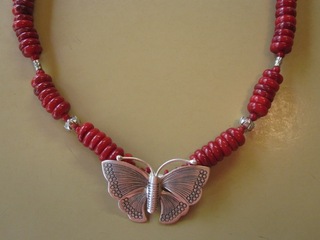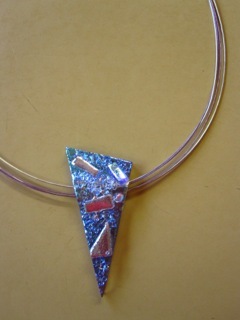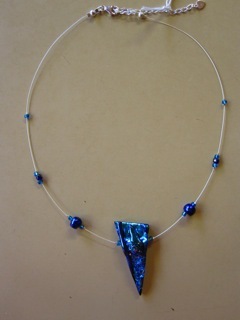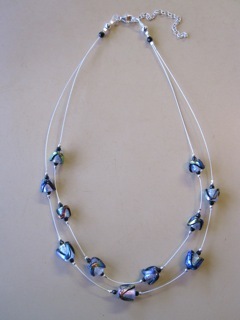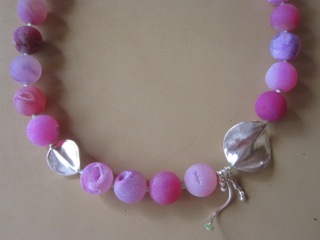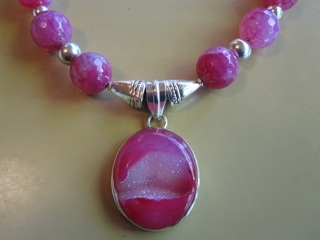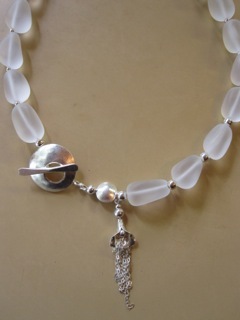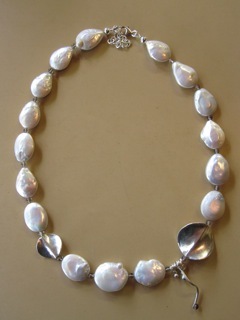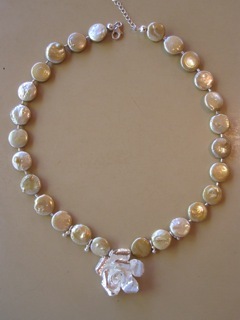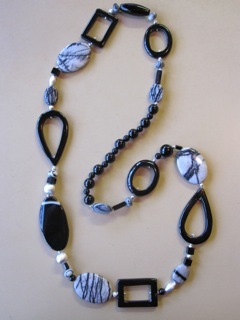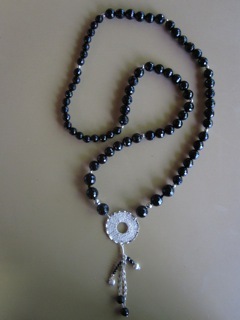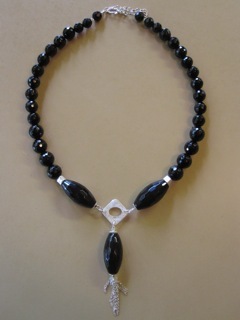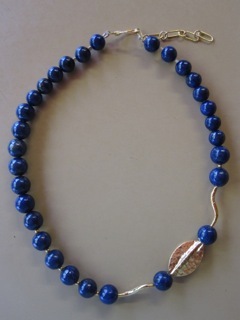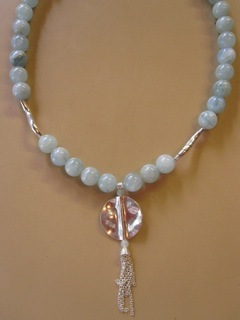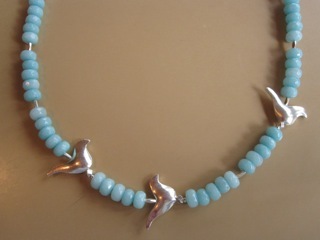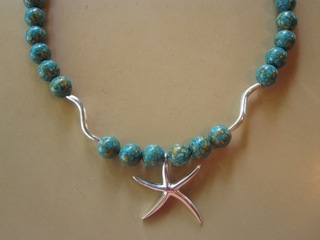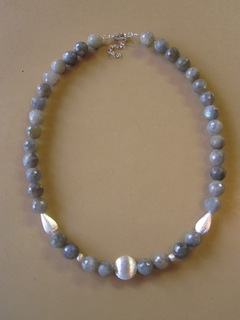 ​​

19.

CORAL, THAI & STERLING
SILVER
$85​

20.

CORAL & STERLING SILVER
$120​
21.

DICHROIC GLASS &
STERLING SILVER
$75​​
22.

DICHROIC GLASS &
STERLING SILVER
$60​​
23.

DICHROIC GLASS &
STERLING SILVER
$90​​
24.

DRUZY AGATE, THAI & STERLING SILVER.
$95

25.

AGATE, DRUZY AGATE & STERLING SILVER
$95

26.

FRESHWATER PEARLS, THAI
& STERLING SILVER
$105​​
27.

ROCK CRYSTAL, THAI &
STERLING SILVER
$95​​
28.

FRESHWATER PEARLS, THAI
& STERLING SILVER​
$105​ SOLD
29.

JASPER, ONYX, AGATE &
STERLING SILVER
​​$95
30.

ONYX & STERLING SILVER
$85​
31.

AGATE & STERLING SILVER
$95​
32.

LAPIS LAZULI & VERMEIL
$110​
33.

AMAZONITE, THAI &
STERLING SILVER
$90​​​
34.

LABRADORITE &
STERLING SILVER
$85​​
35.

JADE, THAI & STERLING SILVER
$85​
36.

HOWLITE TURQUOISE, THAI &
STERLING SILVER
$89​​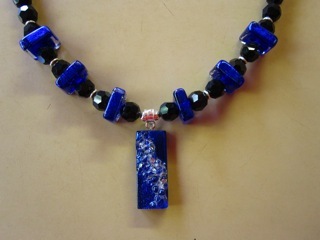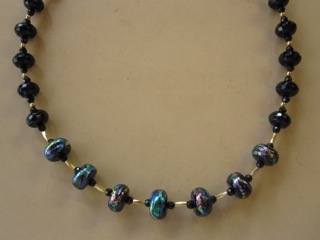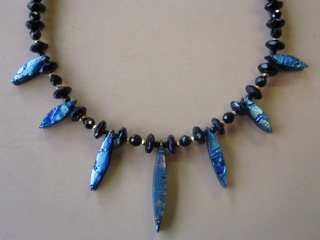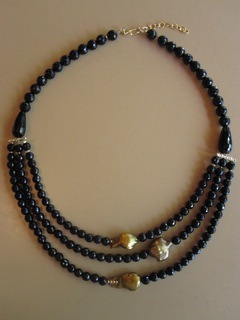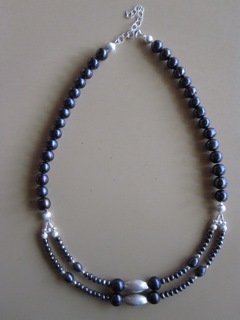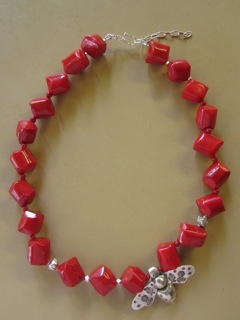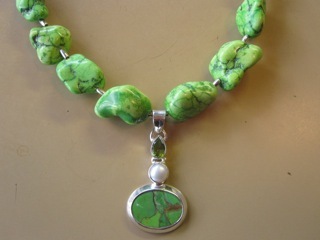 37.

DICHROIC GLASS, CRYSTAL &
STERLING SILVER
$85​​ SOLD
38.

DICHROIC GLASS, ONYX & VERMEIL
$95​
39.

DICHROIC GLASS, ONYX & VERMEIL
$105​
40.

GREEN & COPPER TURQUOISE,
PEARL, PERIDOT & STERLING SILVER
$85​
41.

KESHI PEARLS, ONYX &
​ VERMEIL
$100​
42.

CORAL, THAI & STERLING
​ SILVER
$95​
43.

FRESHWATER PEARLS
& STERLING SILVER
$98​​ SOLD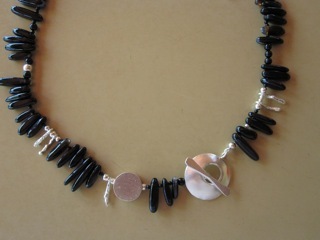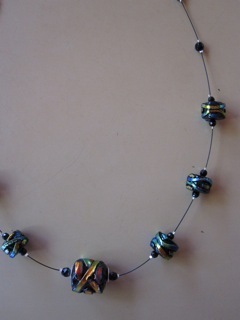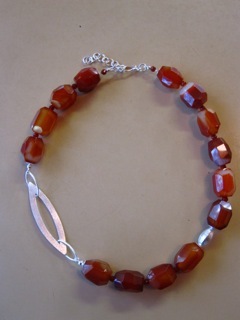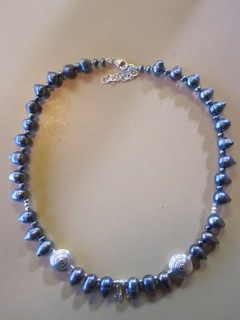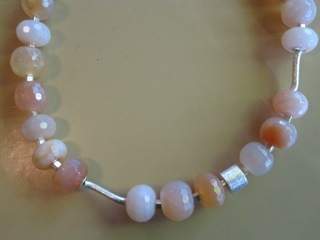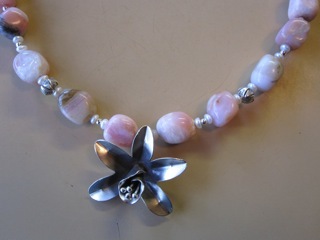 44.

ONYX, AGATE, THAI & STERLING SILVER
$80​
46.

FACETED AGATE, CARNELIAN &
​ STERLING SILVER
$90​
47.

DICHROIC GLASS & STERLING SILVER
$80​
48.

FRESHWATER PEARLS,
THAI & STERLING SILVER​
$92​
49.

AGATE, SILVER PLATED GLASS SEED
BEADS & STERLING SILVER​
$85​​
50.

PINK OPAL, PEARL, THAI & STERLING

SILVER
$86​​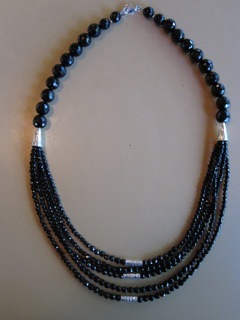 51. ONYX,THAI & STERLING
SILVER
$95​​
52.

RUTILATED QUARTZ, ONYX
​& STERLING SILVER.
$115​
53.

ONYX, THAI & STERLING
SILVER
$100​​​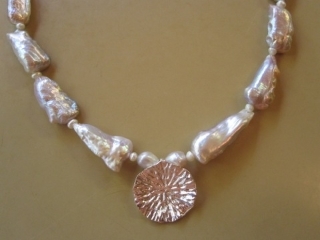 54.

AMETHYST, THAI & STERLING
SILVER
$100​​​​​​​​​
55.

KESHI PEARLS, THAI & STERLING

SILVER​
$90​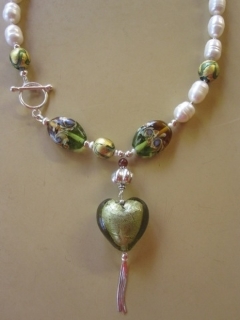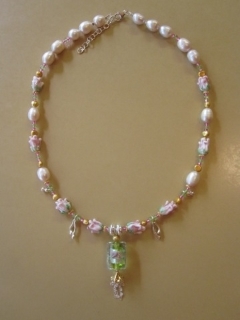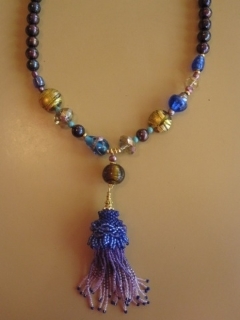 56.

PEARLS, LAMPWORK, THAI &
STERLING SILVER​
$100​



57.

PEARLS, LAMPWORK, SEED
BEADS & VERMEIL​
$100​
58.

PEARLS, LAMPWORK,
VERMEIL, THAI & STERLING
SILVER
$95​​
​​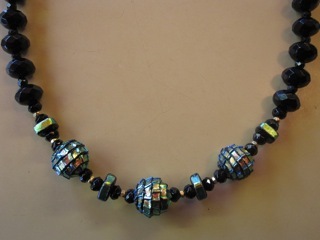 59.

DICHROIC GLASS, ONYX & VERMEIL
$100​
60.

DICHROIC GLASS,ONYX & VERMEIL
$100​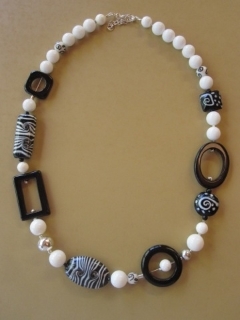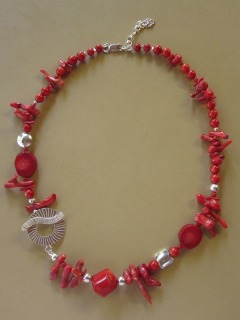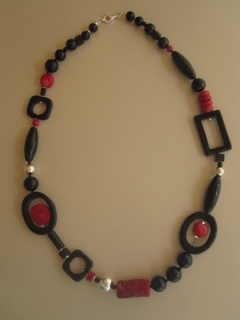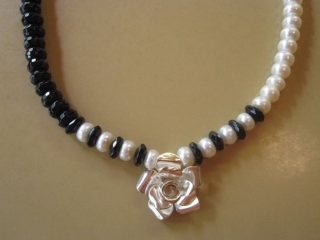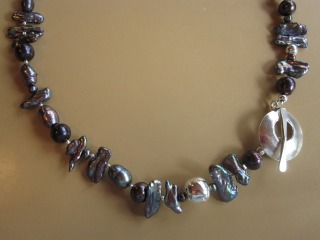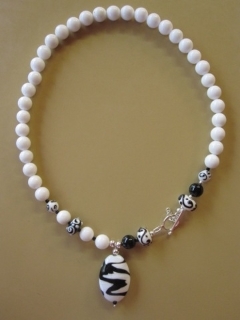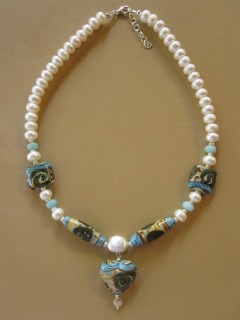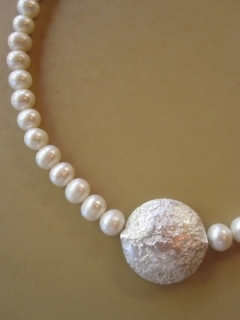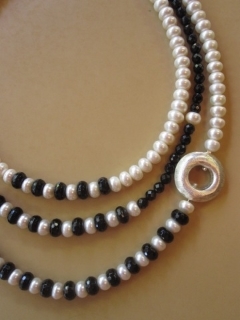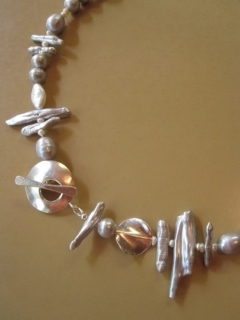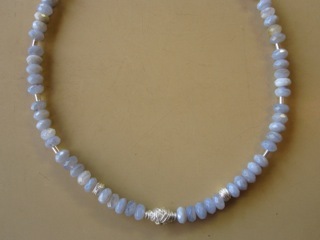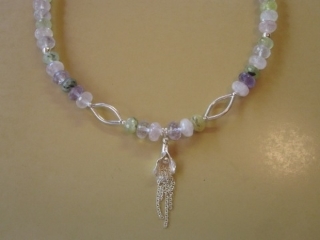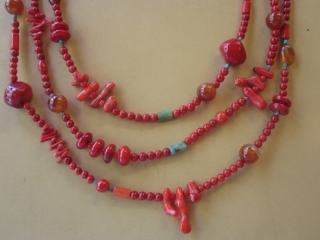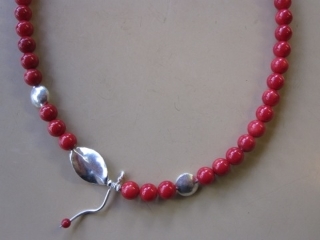 61.

CORAL, THAI & STERLING
SILVER
$95​​
62.

CHALCEDONY, STERLING
& THAI SILVER
$95
63.

CORAL, ONYX & STERLING
SILVER
$90​​
64.

PEARLS, ONYX, THAI & STERLING
STERLING SILVER
$90​​
65.

FRESHWATER PEARLS, THAI & STERLING
SILVER
$85​​
66.

WHITE CORAL, LAMPWORK,
ONYX & STERLING SILVER
$75​​
67.

PEARL, LAMPWORK, JADE &
STERLING SILVER
$75​​
68.

WHITE CORAL, LAMPWORK
ONYX & STERLING SILVER
$92​​
69.

CHALCEDONY & STERLING SILVER
$95​
70.

AMETHYST, PRENITE, ROSE QUARTZ,
THAI & STERLING SILVER
$90​​
71.

FRESHWATER PEARLS, THAI
& STERLING SILVER
$95​​
72.

FRESHWATER PEARLS, THAI
& STERLING SI​LVER
$95​
73.

SET OF 3 NECKLACES
FRESHWATERPEARLS, ONYX
THAI & STERLING SILVER​​
$180​
74.

SET OF 3 NECKLACES CARNELIAN,
CORAL, TURQUOISE & STERLING SILVER
$150​​
75.

CORAL, THAI & STERLING SILVER
$95​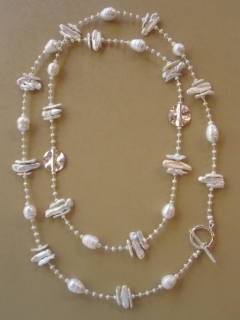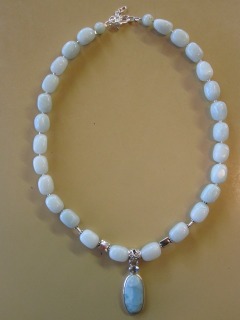 76.

SEA SEDIMENT JASPER,
TURQUOISE, THAI &
STERLING SILVER
$90​​​
77.

FRESHWATER PEARLS, THAI
& STERLING SILVER
$105​​
78.

AMAZONITE, LARIMAR, BLUE
TOPAZ & STERLING SILVER
$85​​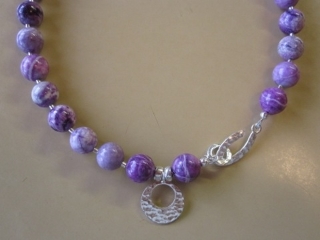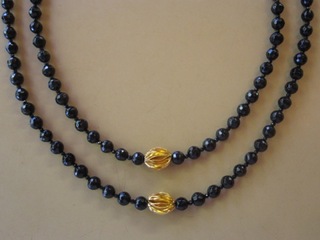 5.

JASPER, THAI & STERLING SILVER
$75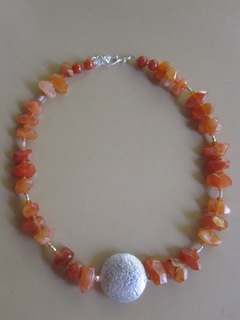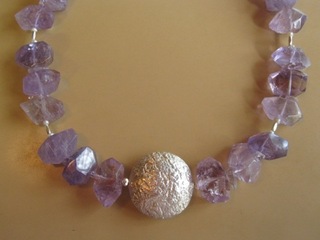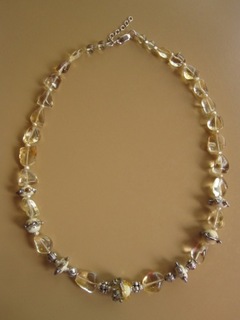 79. LAMPWORK, CITRINE,PEARLS
& STERLING SILVER
$125​​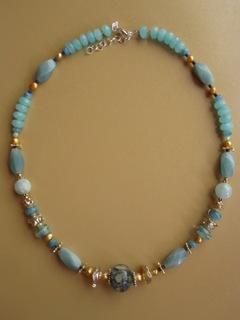 80.

LAMPWORK, AMAZONITE, JADE
VERMEIL & STERLING SILVER
$105​​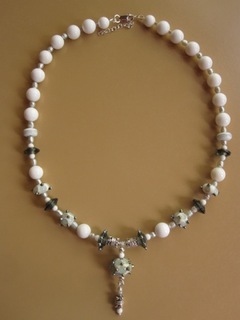 81.

LAMPWORK, CORAL, ONYX,
PEARLS & STERLING SILVER
$130​​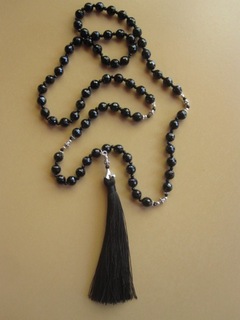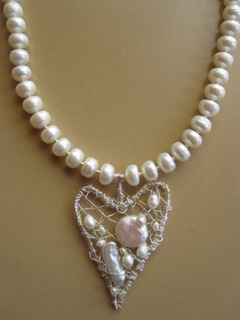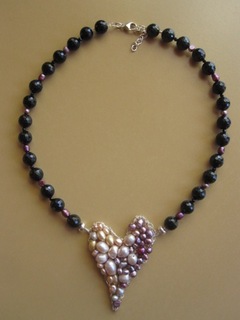 82.

ONYX & STERLING SILVER
$90​
​
83.

PEARLS, STERLING SILVER &
SILVER FILLED WIRE
$95​​
84.

ONYX, PEARLS & STERLING
SILVER
$95​​